This is a quick test post using the new WordPress extension for Google Docs:
This morning I got excited by one of @dougpete's tweets, specifically:
http://WordPress.com Unveils Google Docs Extension for Collaboration http://flip.it/SNPVUw via @flipboard
The extension being profiled is available here. Without reading any instructions, I installed it and proceeded to do this quick test.
Let's see how it performs using images. This image has been copied and pasted in from the web.
What about tables?
| | | |
| --- | --- | --- |
| A | B | A+B |
| 0 | 0 | 0 |
| 0 | 1 | 1 |
| 1 | 0 | 1 |
| 1 | 1 | 1 |
I'm going to go ahead and post this directly from Google Docs and then provide some feedback below. Let's see how it does!
---
Observation
While it did an adequate job of posting all the normal text, it botched up some indented text I had, it did not include the picture, and messed up the widths of my table.
This is how the above section should have looked: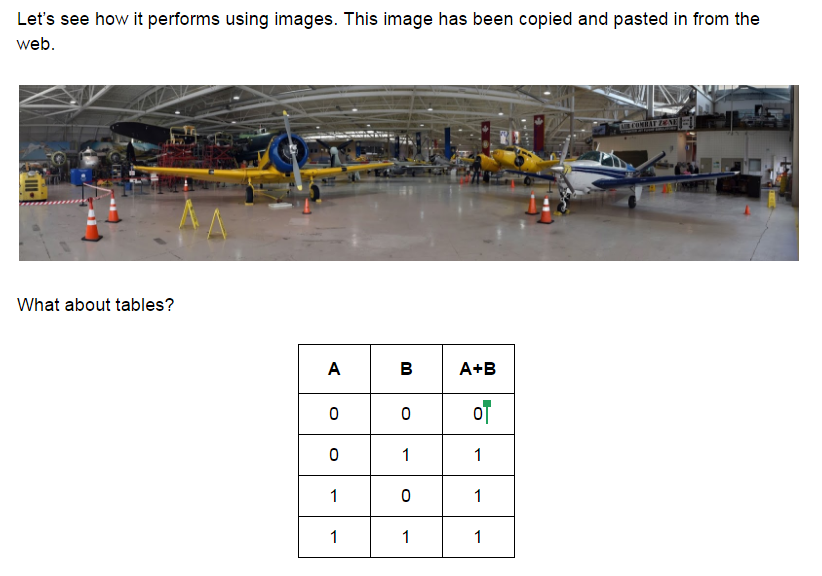 Conclusion? This extension is not ready for prime time, unfortunately. For plain text documents, it's fine, but for anything more complex than that then you might as well just compose your posts in WordPress directly.
Too bad…